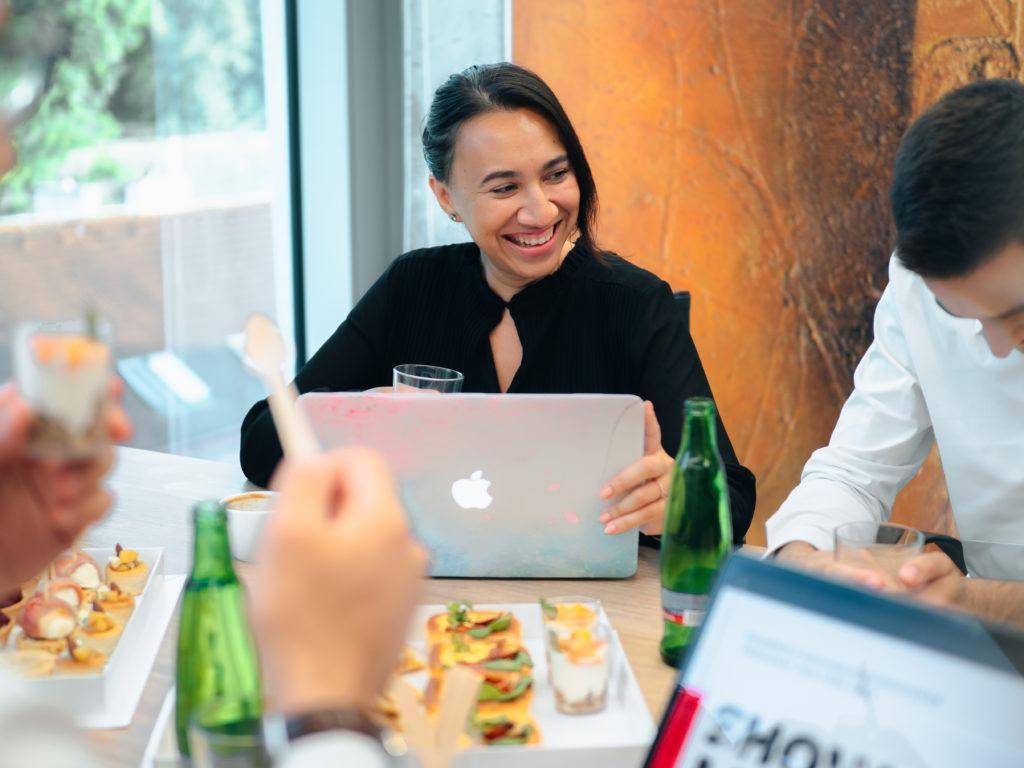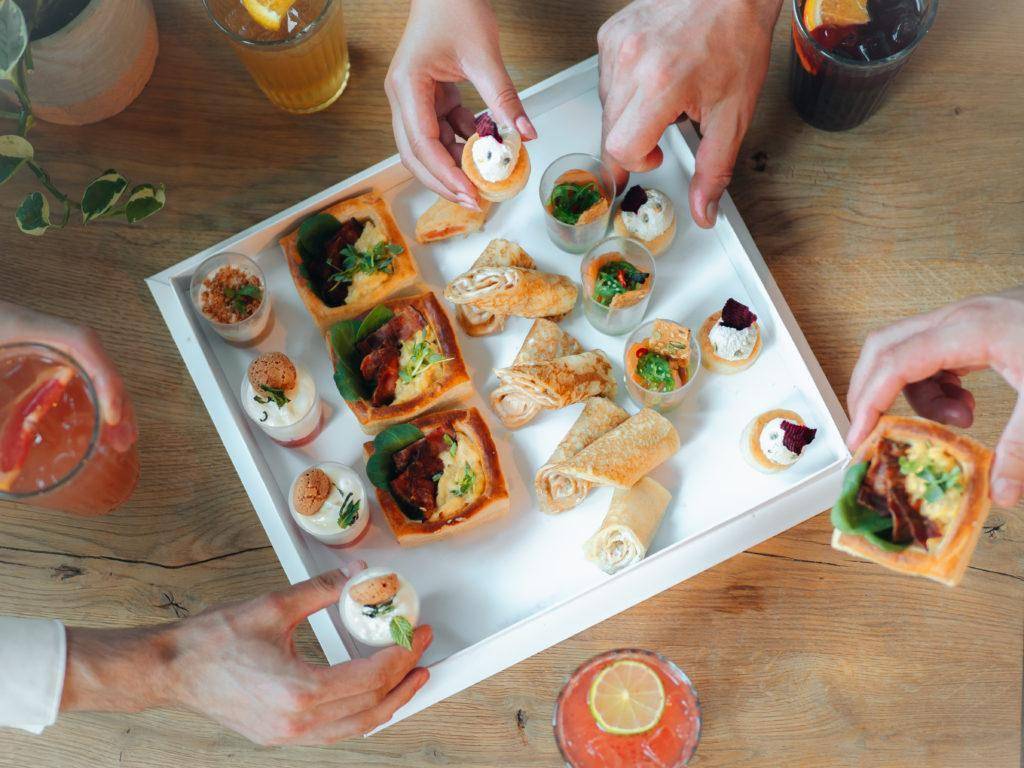 We offer a complex office catering service for your corporate meetings, briefings, business breakfasts or seminars for a minimum of 5 people.
The service is offered in the form of a prepaid annual credit. After signing a general agreement and paying one single invoice, your company uses a credit system to order a catering delivery directly to your office during a period of up to 12 months.
Based on your preferences, budget, dietary restrictions, unique needs and our many years of experience in catering business events, we will design healthy, tasty and varied canapés to be delivered to you in eco-friendly catering boxes.
Once general conditions are agreed, for each individual order we need just a minimum information from your side – quantity, date and time.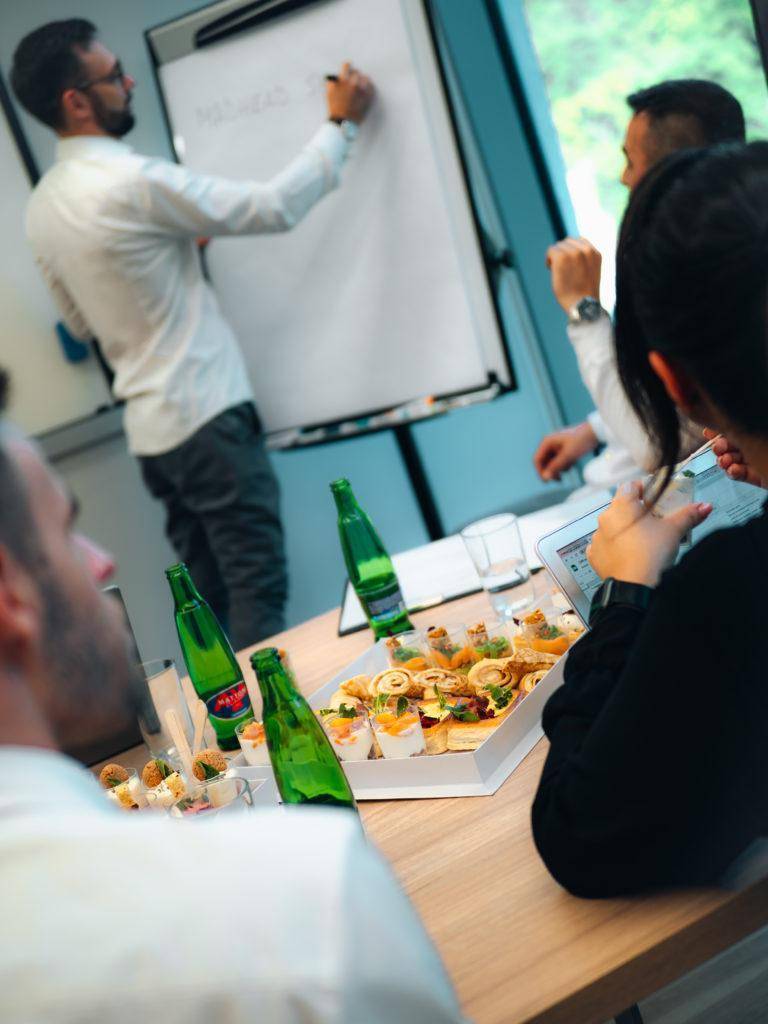 Basic principles of our office catering offer
High quality ingredients.
Variety of flavors and consistency of canapés in one box.
Easy manipulation with canapés so you don't have to worry about your suit or white shirt.
Elimination of ingredients that can bring discomfort to business conversations (garlic, poppy seeds, fish smell, etc.)
Aesthetics. We really want our catering to decorate your meeting.
Convenience and environmentally responsible packaging. Our office catering is delivered in a beautiful box that you can put on the table right away. In addition, the disposable containers from our Italian supplier Martellato are made from a revolutionary compostable patented biopolymer that comes from plants and is produced in a natural way.
Why contract office catering with us?
Great variability and regular renewal of the offer
Flexibility
Orders 48 hours in advance as well as orders for a minimum number of people
No worries, no dishes to wash afterwards
Minimum price for a single delivery is CZK 1 290,- + VAT
Some examples of our office catering boxes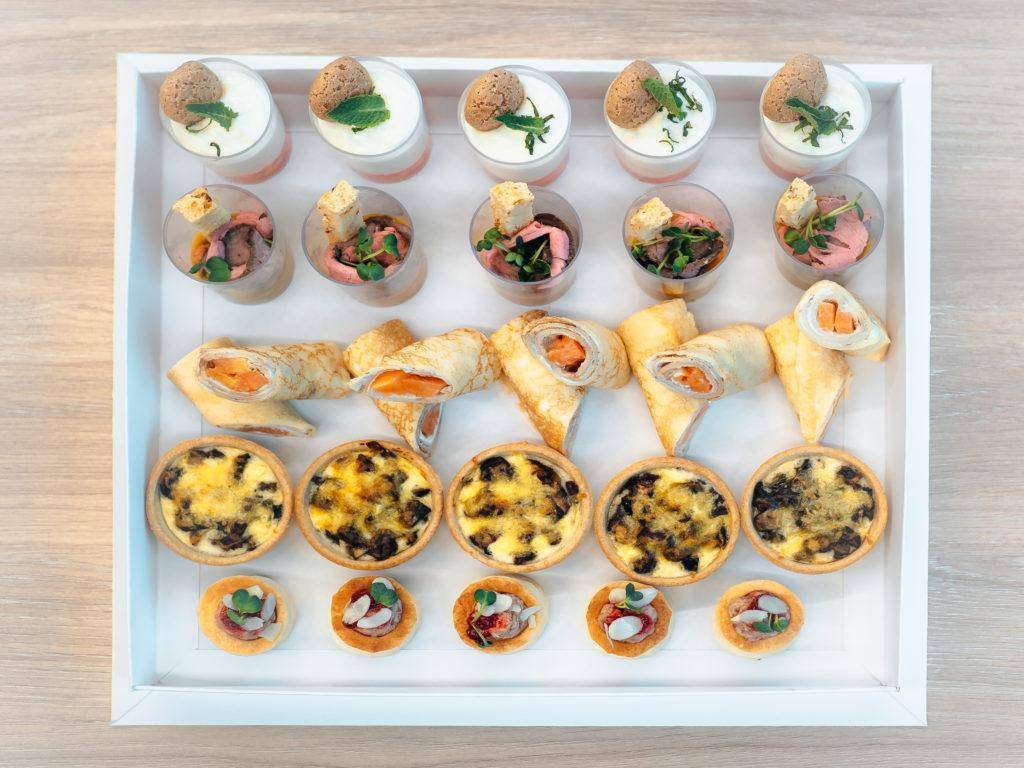 Classic mix box #1 for 5 people
5 x No-bake cheesecake with mashed strawberries, basil and caramel cookies
Who doesn't love a light cheesecake with sweet strawberries?
5 x Roast beef with mango puree, coriander, chili and focaccia stick
A favorite classic with a fresh and slightly spicy twist.
5 x Crêpes with cream cheese, papaya baked in cinnamon sugar and lemon zest
Sweet papaya, slightly spicy cinnamon and fragrant lemon zest? A combination you'll quickly fall in love with.
5 x Tartelettes with roasted porcini mushrooms, caramelized onions and Cheddar cheese
A hearty snack for the best ideas.
5 x Mini puff pastry cupcake with foie gras pate with cognac, cranberries and watercress
This delicious canapé is not to be missed at any event.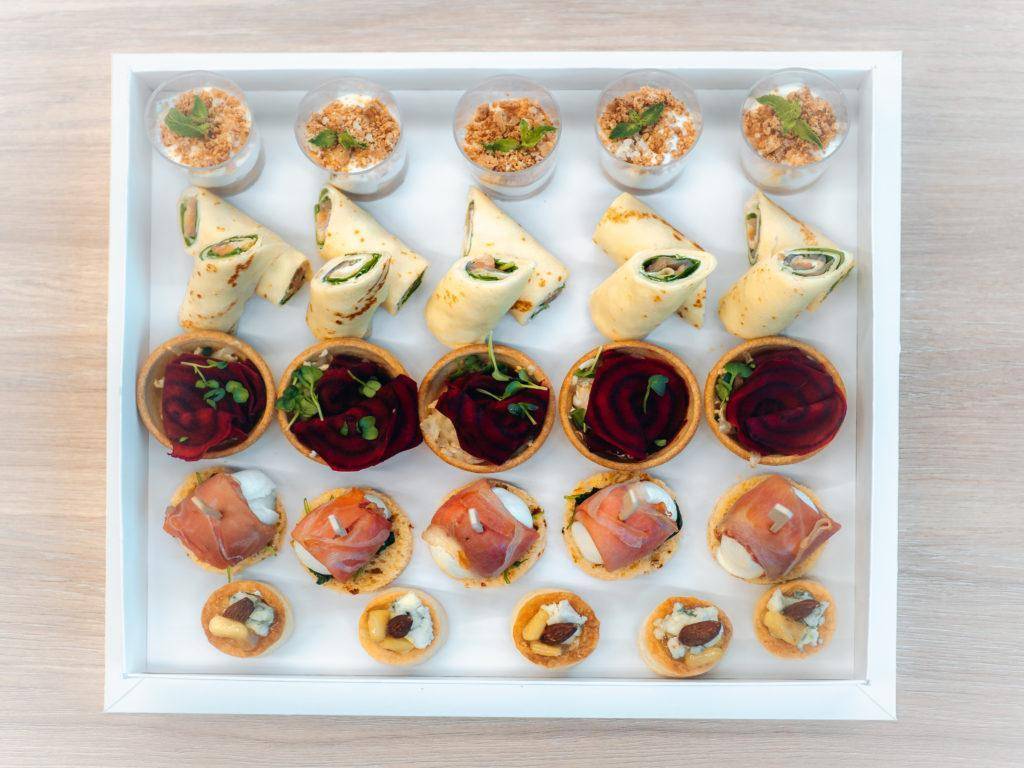 Classic mix box #2 for 5 people
5 x Baked buttery apples with sour cream and crumble.
"Apple pie with sour cream" in a jar.
5 x Crêpes with cream cheese, marinated salmon and baby spinach
Because crêpes don't have to be just sweet. These ones with salmon marinated in teriyaki sauce and maple syrup will convince you of that.
5 x Tartelettes with goat cheese mousse and beetroot carpaccio
Goat cheese and beetroot simply go together. Try it this time in the form of our tartelettes.
5 x Mozzarella di Bufala baked in Parma ham, served on mini focaccia with spinach
Old but gold! A classic canapé loved by all.
Mini puff pastry cupcake with roasted pear, Gorgonzola and smoked almond
Cheese board in one bite.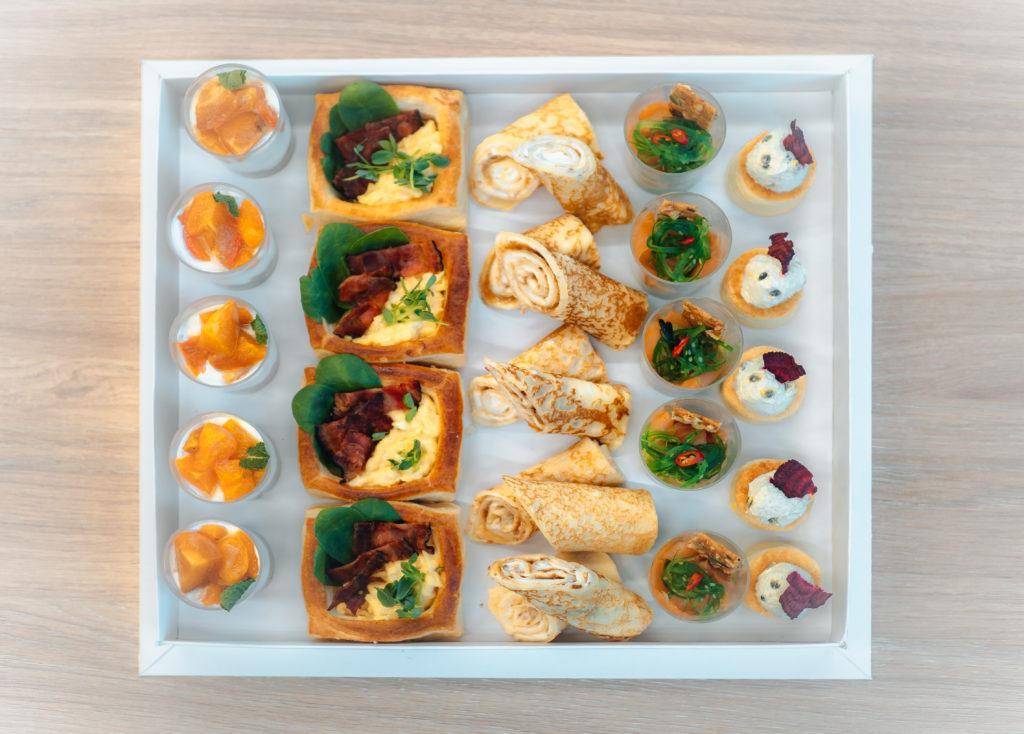 Breakfast mix box for 5 people
5 x Baked homemade granola with Greek yoghurt and apricots baked in butter
Even sweet breakfast lovers will enjoy the combination of sweet apricots with crunchy homemade granola.
5 x Puff pastry tartelettes with scrambled eggs, baby spinach, roasted bacon and microgreens
A breakfast classic with a twist.
5 x Crêpes with cream cheese, fig jam and basil
Who doesn't love thin crepes! Plus, the combination of cream cheese and fig jam with basil is guaranteed not to disappoint.
5 x Avocado mousse with lime juice, wakame, smoked salmon and pumpkin knackerbrot
A light alternative to the popular avo toast.
5 x Mini puff pastry cupcake with passion fruit and goat cheese praline, honey and thyme dust
A refreshing combination of soft cheese and slightly sour maracuja.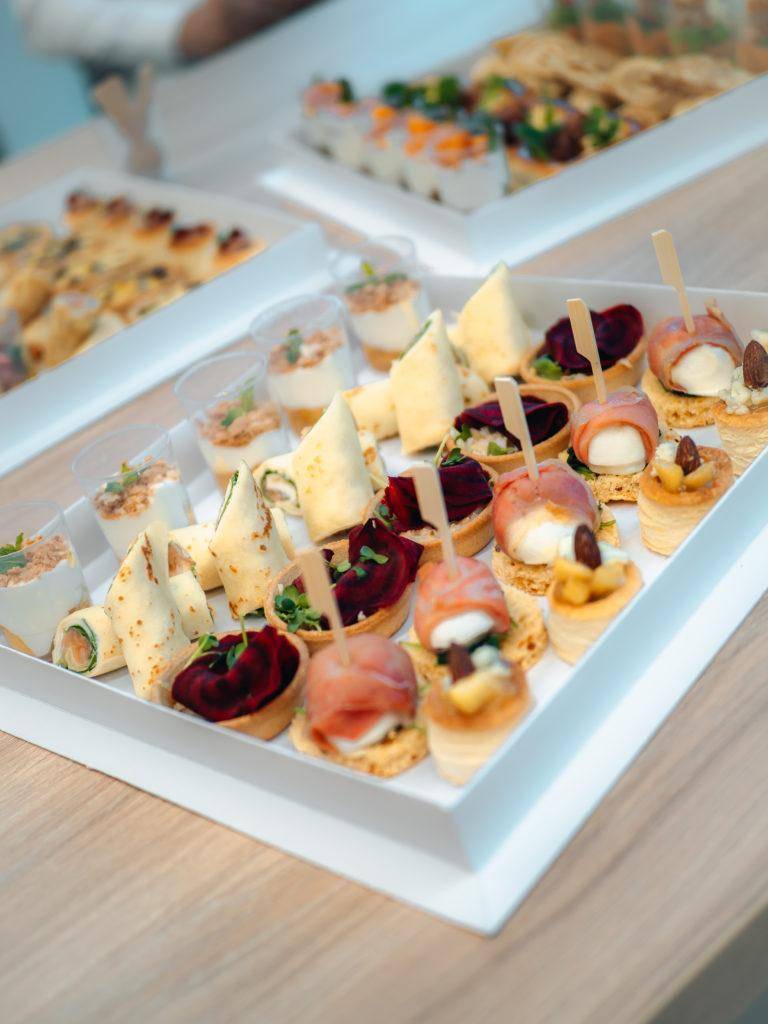 Our aim is to offer you not only food, but a complex service.

We save your time, so you can dedicate it to more important things. For a whole year, you don't have to worry about choosing a suitable refreshment, looking for a supplier, negotiating, confirming orders and invoicing.
We take care of all the menu planning, keep the food selection interesting and seasonal, and make sure that every catering order arrives at the optimal temperature and at the right time.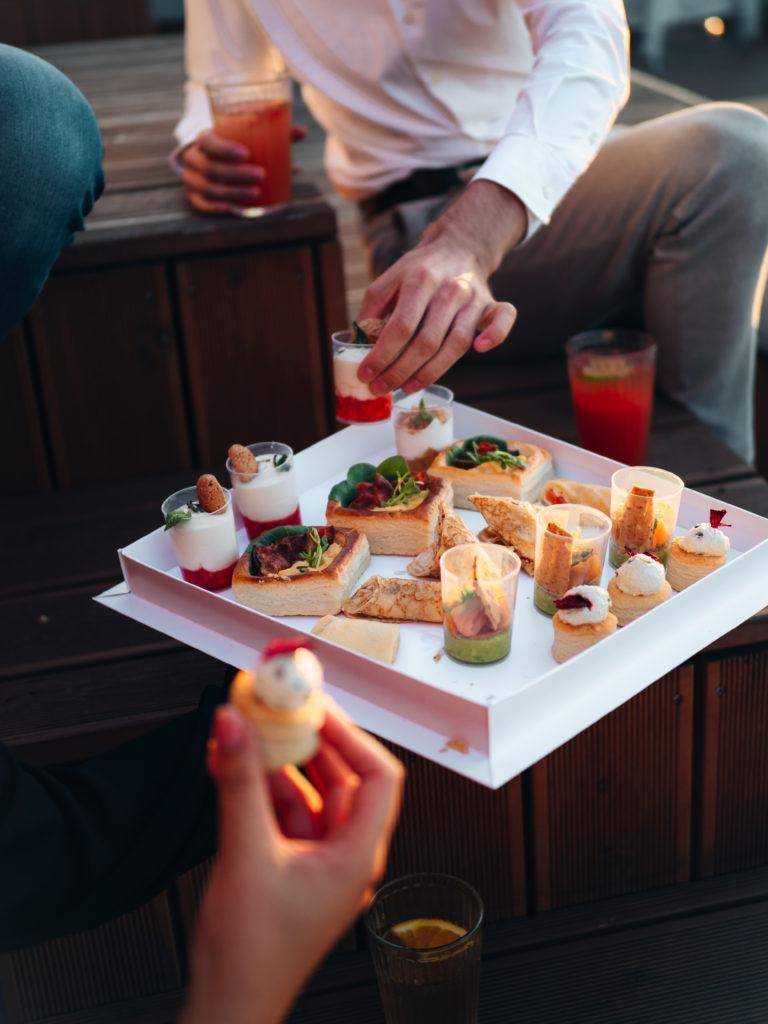 Inquiry
As we want to bring you a long term quality and consistent service, our maximum capacity for a period September 2022 – September 2023 is 30 companies.
Do not hesitate to send us an inquiry as soon as possible.