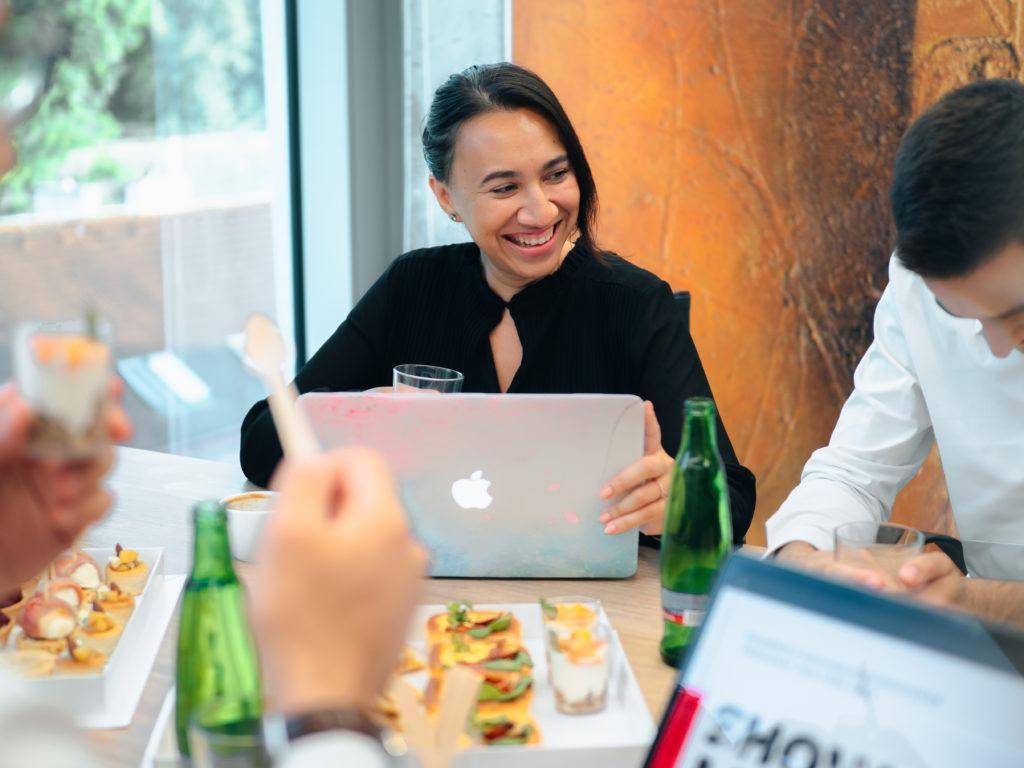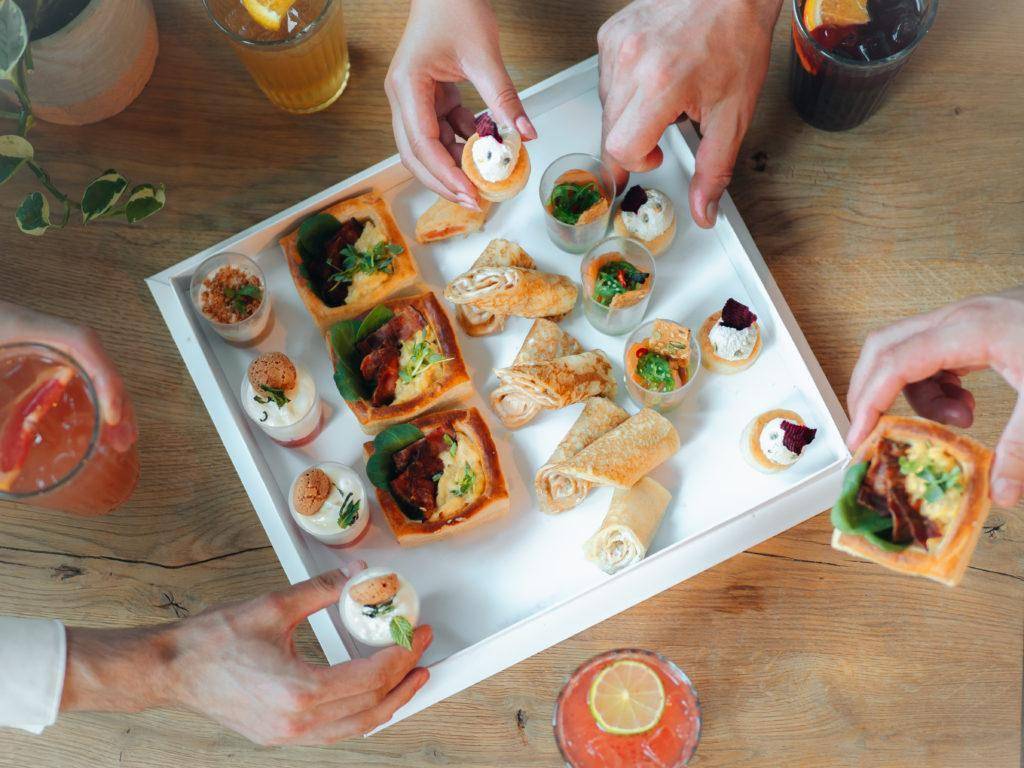 Tasty, varied and beautiful little snacks in environmentally responsible catering boxes delivered to your Prague office. For your company briefings, important meetings, breakfasts, celebrations or training sessions.
You can order the catering boxes as a one-off or on the contract basis with many benefits. Not only do we guarantee lower prices and free delivery with the contract, we also offer your company a effective ordering process and the ability to customize the composition of the boxes to meet your preferences, budget, dietary restrictions or unique needs. After we agree on general terms with a minimum annual volume, you simply let us know 48 hours in advance how many boxes you want us to deliver and when. It doesn't matter if you order every Monday and Thursday for 5 people, or once every 2 months for 30.
Service is available only in Prague.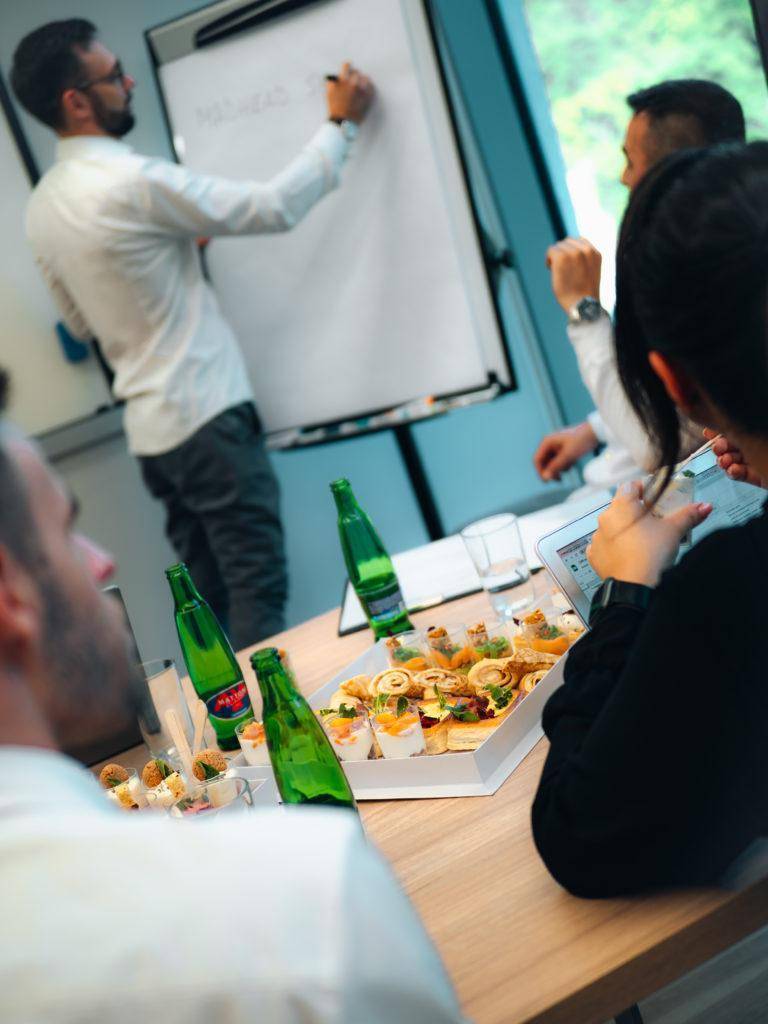 Modern and well thought out concept
High quality ingredients.
Variety. Of flavours and consistencies of capanés in one box.
Easy handling. Convenient to remove from the low box.
Cleanliness. Easy manipulation with canapés so you don't have to worry about your suit or white shirt.
Comfort. Elimination of ingredients that can bring discomfort to business conversations (garlic, poppy seeds, fish smell, etc.)
Aesthetics. We really want our catering to decorate your meeting.
Convenience. Take the lid off and enjoy right away. No reloading, no dishes to wash.
Environmentally responsible. The box is made of paper, the spoons are edible or wooden, and the disposable containers made of compostable patented biopolymer, which comes from plants and is produced in a natural way. All waste is thus 100% biodegradable.
Order per box. One box (25 pieces) is designed for 5 people. For 8 people you need to order 2 boxes.
Quantity. The canapés (5 different sized pieces for 1 person) are equivalent to the snacks you would expect at a coffee break.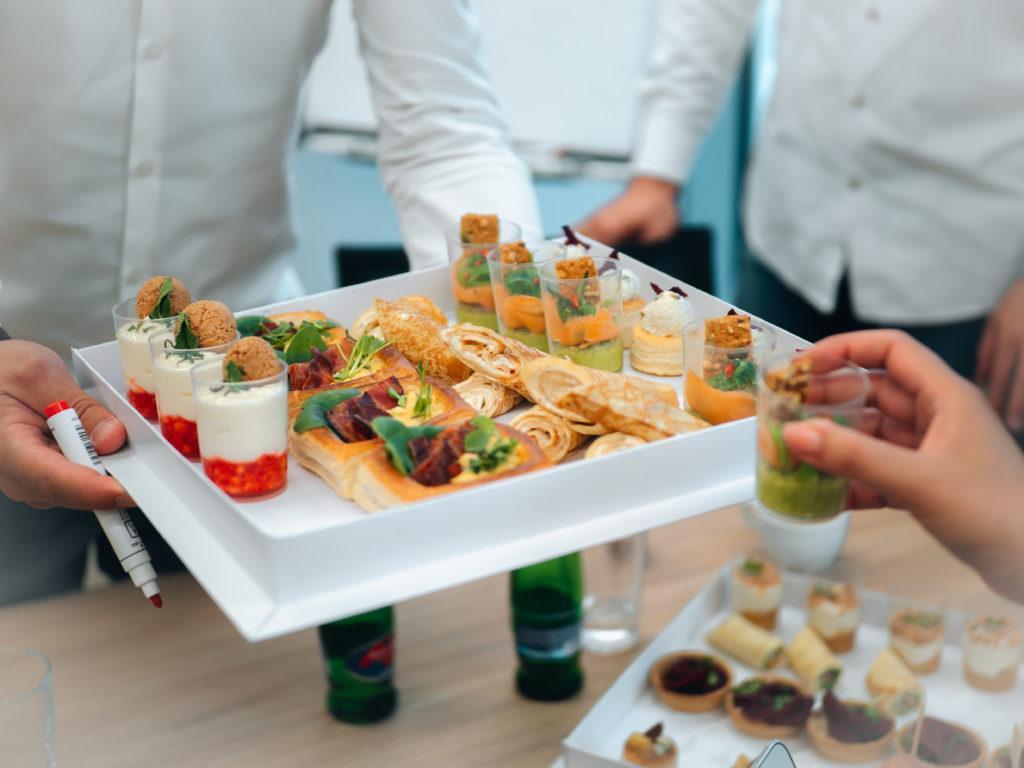 Office catering without worries
Variability of the offer and regular renewal of the standard boxes.
Orders of up to 10 boxes only need to be confirmed 48 hours in advance.
The minimum order is 1 box.
The price of one box is 1 490,- CZK + 15% VAT.
Delivery within 15 minutes from Karlín is included in the price.
Office catering with a contract
Individual approach and custom boxes.
Flexibility. We will do everything we can to satisfy any non-standard ad hoc requests you may have.
The price of one box for contract customers is 1 290,- CZK + 15% VAT.
Delivery within Prague is always included in the price.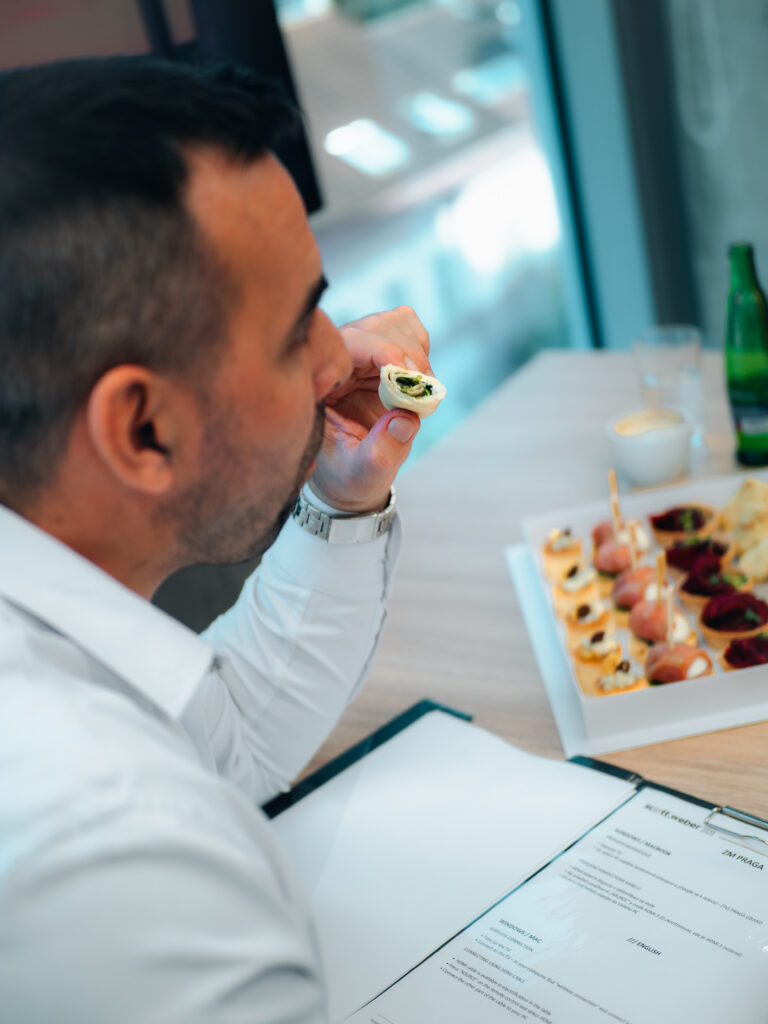 Currently
We accept new contracts for catering services effective from September 2023

We prepare
All canapés will be gluten-free
We are building a new modern facility with our own bakery and show room
A brand new menu for breakfast, coffee breaks and brunches
E-shop with a client zone

Sign up for the newsletter and don´t miss any news
 Current offer of canapés mix boxes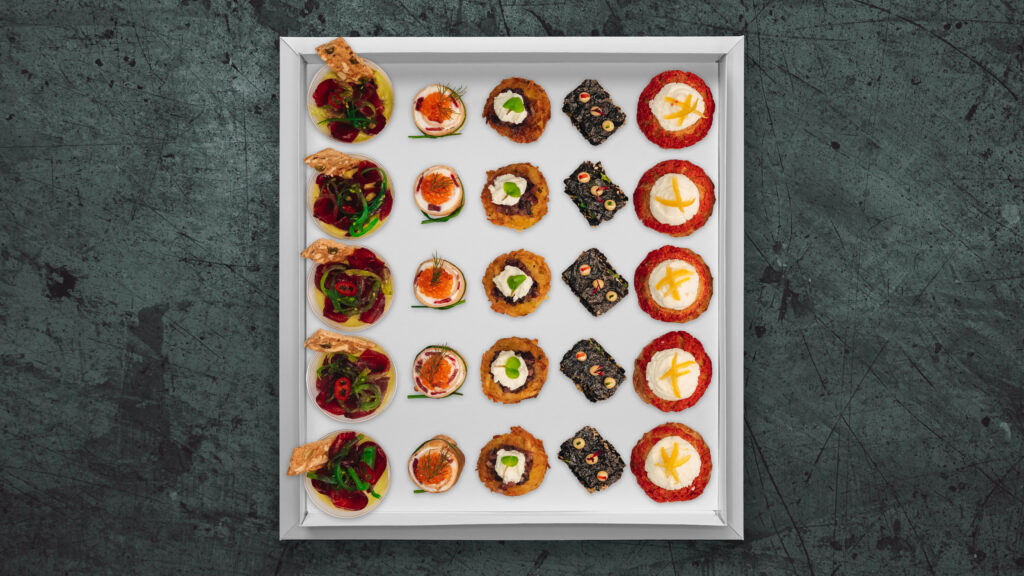 CANAPÉS MIX 1
5 x Avocado mousse with lime juice, wakame, marinated salmon and pumpkin knackerbrot (1,3,4,7,8)
5 x Crêpe with smoked salmon, cream cheese, trout caviar, dill and chives (1,3,4,7)
5 x Swiss potato rösti with bacon & onion marmalade and herb cheese (3,7)
5 x Grilled tofu with wakame salad, Japanese mayonnaise and nori chips (3,6,7)
5 x Carachoux with lemon cream and glazed lemon (1,3,7)
CANAPÉS MIX 2
5 x Roast beef with mango puree, coriander, chili and focaccia (1,3,6,7,10)
5 x Puff pastry with foie gras & cognac paté, cranberries, almonds and watercress (1,3,7)
5 x Cuttlefish éclair with prawns, baby spinach, avocado dip and candied lemon (1,2,3,7)
5 x Honey biscuit with goat cheese praliné coated in cranberry, parsley and pecans (1,3,7,8)
5 x Tartlet with pink grapefruit and Campari (1,3,7)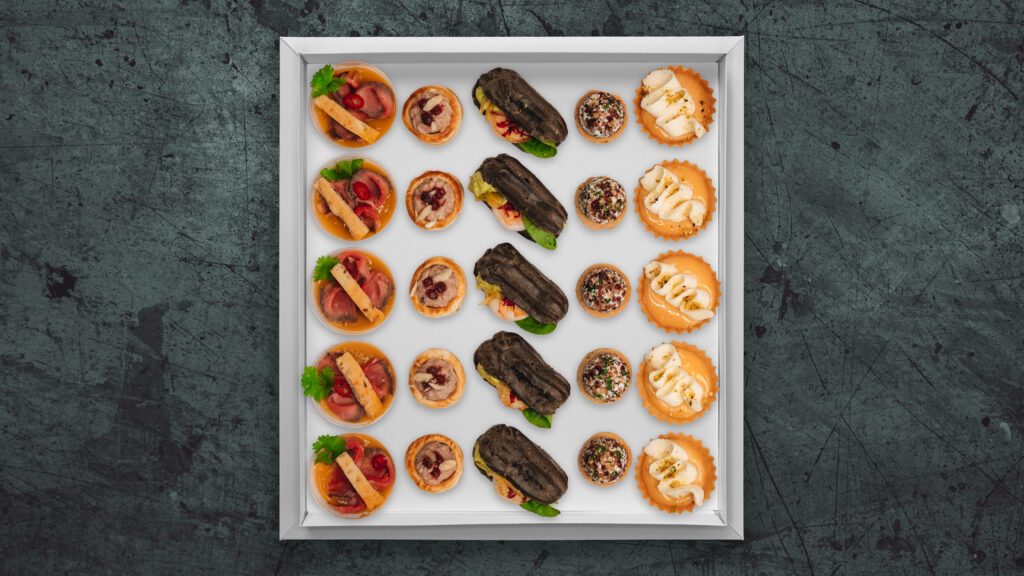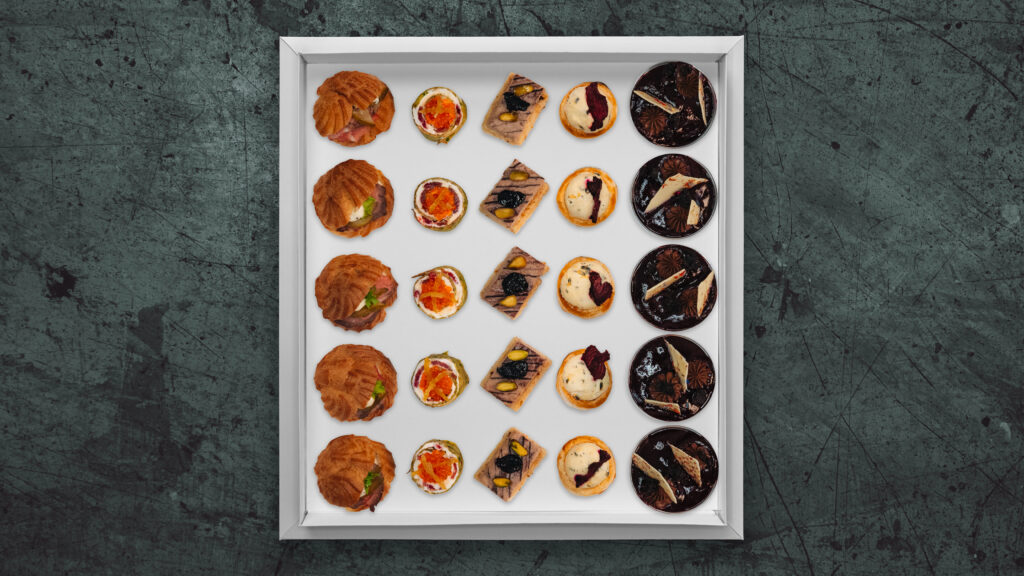 CANAPÉS MIX 3
5 x Profiterole with roast beef, marinated cucumber and mustard dip (1,3,6,10)
5 x Spinach roll with salmon and herb cream, trout caviar and candied lemon (1,3,4,7)
5 x Bruschetta with foie gras with red wine jelly, candied cherry and pistachios (1,3,7,8,10,12)
5 x Puff pastry with passion fruit goat cheese praliné, honey and thyme powder (1,3,7)
5 x Chocolate mousse with Earl Grey, blackcurrant jelly and chocolate cookie crumble (3,7)
ONE TYPE canapé boxes
15 types of boxes with one item only are also available.
The number of pieces in the box and the price vary according to the item. We will be happy to send you a quotation on request.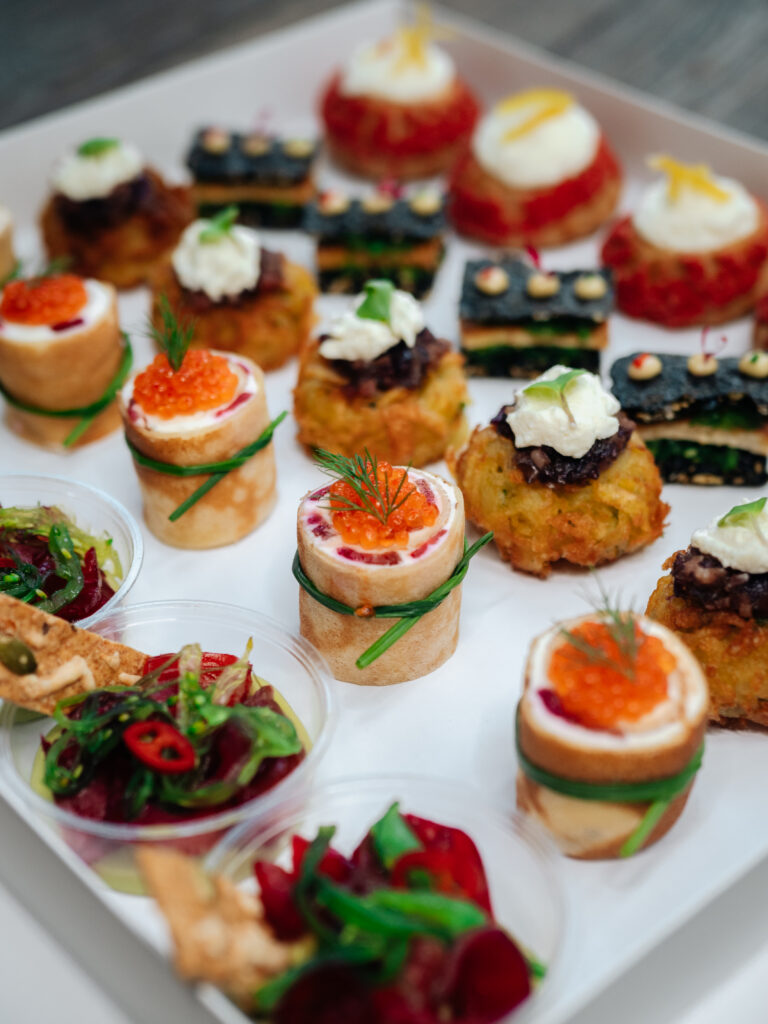 Our aim is to offer you not only food, but a complex service.

We save your time, so you can dedicate it to more important things. For a whole year, you don't have to worry about choosing a suitable refreshment, looking for a supplier, negotiating, confirming orders and invoicing.
We take care of all the menu planning, keep the food selection interesting and seasonal, and make sure that every catering order arrives at the optimal temperature and at the right time.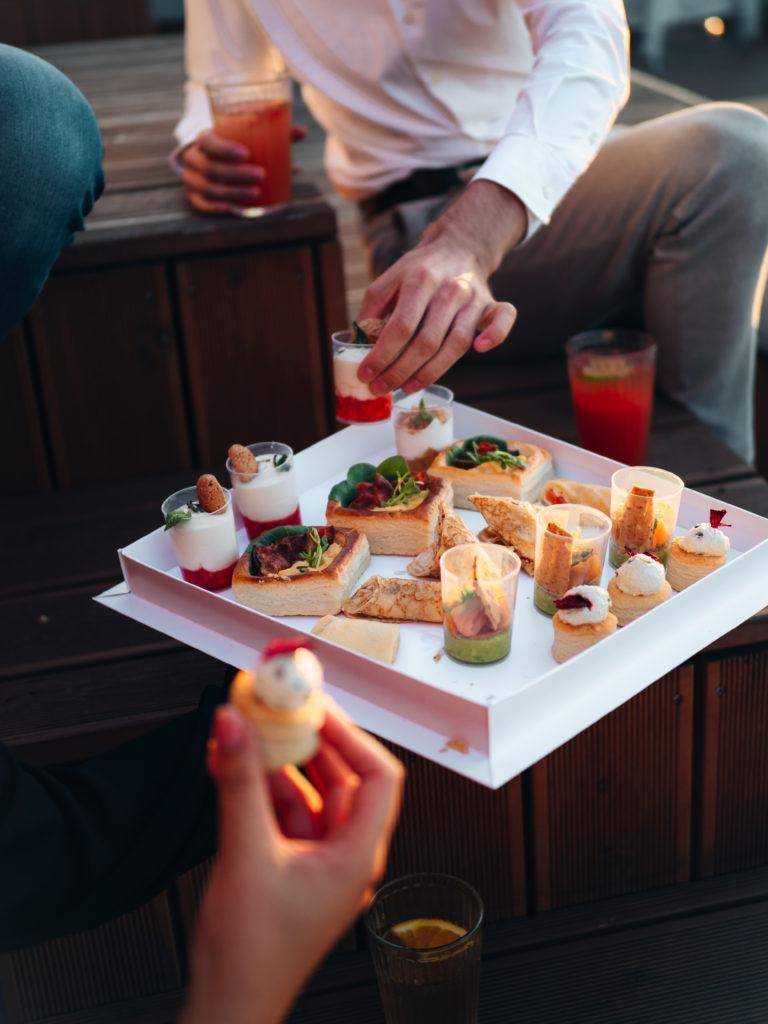 Do you have any question or inquiry?
Do not hesitate to contact us.

catering@spojujeme.cz
+420 722 448 388